No 1/2021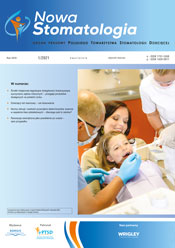 ---
N o w a S t o m a t o l o g i a 1/2021 PL
Praca poglądowa
Środki miejscowe łagodzące dolegliwości towarzyszące wyrzynaniu zębów mlecznych ‒ przegląd produktów dostępnych na polskim rynku


Products soothing ailments associated with primary teeth eruption ‒ a review of products available on the Polish market
Justyna Kurkiewicz, Katarzyna Białoszewska, Dorota Olczak-Kowalczyk – s. 3-9
Dziecięcy łuk twarzowy – cel stosowania


Junior facebow ‒ usage purpose
Karolina Ambroziak, Jolanta Kostrzewa-Janicka, Konrad Kamiński – s. 10-14
Praca poglądowa
Normy okluzji i wartości przeciętne determinantów zwarcia w aspekcie klas szkieletowych – dlaczego jest to istotne?


Norms of occlusion and average values of occlusion determinants in term of skeletal classes – why is it important?
Anahit Lewandowska – s. 15-18
Opis przypadku
Resorpcja zewnętrzna jako powikłanie po urazie ‒ opis przypadku


External root resorption as posttraumatic complication ‒ case report
Joanna Rączka, Katarzyna Białoszewska, Anna Turska-Szybka – s. 19-24
---
Do korzystania w granicach dozwolonego użytku prywatnego.